Biography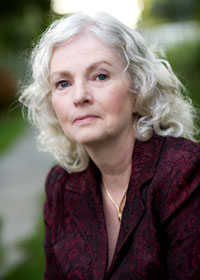 Hollis Seamon lives in Kinderhook NY and teaches for the MFA in Creative Writing Program of Fairfield University, Fairfield CT.
She is the author of a short story collection, Corporeality (Able Muse Press 2013), a gold medal winner in the 2014 Independent Publishers Awards.  Her story "Death is the New Sleep" won an Al Blanchard Award for Short Crime Fiction. Her story "It's Never Just the Wind" appears in the May/June 2018 edition of Ellery Queen Mystery Magazine.
Hollis is also the author of a young adult novel, Somebody Up There Hates You (Algonquin Young Readers 2013) which was named a 2014 Best Book for Young Adults by the American Library Association and received starred reviews from Kirkus and Publishers Weekly.  Somebody Up There Hates You has been translated into five languages and published in Canadian, French, German, Spanish, Portuguese, and Polish editions. 
Hollis has published a previous collection of stories, Body Work (Spring Harbor Press 2000), and a mystery novel, Flesh (Avocet Press 2005).   Her short stories have appeared in Ellery Queen Mystery Magazine, Bellevue Literary Review, Fiction International, The Greensboro Review, The Nebraska Review, Persimmon Tree, The Chicago Review and many other journals. Her work has been included in anthologies such as The Best of the Bellevue Literary Review (Bellevue Literary Press, 2008), Celestial Electric Set (Emrys Foundation, 2008), and The Strange History of Suzanne LaFleshe and Other Stories of Women and Fatness (The Feminist Press, 2003). She is a recipient of a New York Foundation for the Arts Fiction Fellowship.